iDrive Navigator - A Downloadable Navigation System
Date: Friday, September 02 @ 10:56:42 UTC
Topic: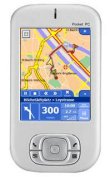 Syrgic has released iDrive Navigator, a new downloadable navi system for Pocket PC. iDrive Navigator transforms the Pocket PC into an on-board navigation system featuring voice-prompted driving directions, detailed maps, thousands of points of interest, and automatic re-routing.

iDrive Navigator is available for most European countries, including Austria, Switzerland, Belgium, Luxemburg, the Netherlands, Czech Republic, France, Germany, Greece, Italy, Finland, Sweden, Denmark, Norway, Slovakia, Spain, Portugal, and Great Britain & Ireland.



Detailed Features List:

Voice-prompted driving directions
Detailed map coverage provided by NAVTEQ
Route computation with turn restriction
Door-to-door route planning across Europe
Avoiding Routes, Toll Roads, Motorways or Ferries
One hand operable finger-friendly user interface
Exact road geometry directions
Thousands of POIs near your route
User-defined Points of Interest and Favorites
Out-of-route warning with FAST automatic re-routing
SDK with .NET programming support available
The very latest maps with excellent street number coverage
Finds addresses, intersections and points of interest near your route
GPS Ready

IDrive Navigator for Great Britain and other European countries is available at www.pocketland.net.