GlobalSat SD502 SDIO GPS with memory
Date: Friday, March 25 @ 13:09:32 UTC
Topic: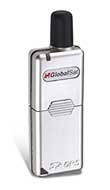 When we were at CeBIT earlier this month we saw a new SDIO GPS receiver from GlobalSat. At the time we had no information about it other than it had memory included.

GlobalSat have now provided us with more information and we can now reveal the specifications of the receiver to be called the GlobalSat SD502. We now know that it will be a SiRF StarIII receiver with up to 512Mb of memory on board.

This should be available in stores early summer.

Click here to read the GlobalSat SD502 specifications...

Click here to discuss...