TomTom GO 5 software review
Date: Thursday, March 10 @ 09:00:00 UTC
Topic: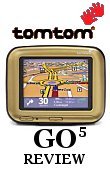 We have had a lot of speculation over the past few months about the TomTom GO. In particular a scare was raised that with reported new hardware versions the existing GO userbase would be left behind.

Well the new TomTom GO hardware is officially confirmed now and you can be assured that TomTom do value existing clients, and the announcement from CeBIT today proves it. TomTom are to release an upgrade for existing GO users for both application and maps. Not only that, but just about everything that you have asked for is in it. In keeping with the other TomTom applications this will be called TomTom GO 5.

PocketGPSWorld.com has been part of the beta testing team and we have prepared a detailed review of the latest software features.
And boy will you like them!!!



More details will emerge when we meet with the TomTom Directors about the upgrade policy and costings. In the mean time click here to read the full review. Please bear in mind that the review was written using the current GO so you will see exactly what you will get. We will add the new hardware features soon.

Click here to discuss...