Brodit ''pass-through'' mount for iPAQ 4700 review
Date: Thursday, February 17 @ 13:41:06 UTC
Topic: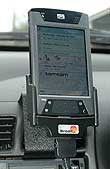 Brodit have recently released the amplified mount which we reviewed here. At about the same time they also released a range of holders quote "with built in connector. Fits all cables.".

At the time this went straight over my head. It wasn't until later that I realised what this meant. The connector just passes all the power and data connections from the plug which inserts into the PDA down to a socket which accepts a standard iPAQ connector.

Well here we are I now have the new iPAQ hx4700 and nothing to mount it in my car other than a generic one so I thought it was an ideal time to review one of these pass through Brodit holders.

Click here to read the full review.

Comments?