PC-Mobile Bluetooth Adaptor Review
Date: Saturday, February 05 @ 14:25:50 UTC
Topic: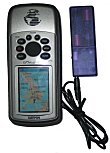 PC-Mobile recently created and released their new Bluetooth adapter for Handheld GPS Receivers like Garmin and Magellan. This allows you to transform any of these popular GPS Handheld Receivers into a fully fledged Bluetooth GPS Receiver. This makes it ideal for use when hiking or fell walking allowing you to tuck the adapter away in your pocket and still have less cables when you want to use a Pocket PC with the latest Ordnance Survey style maps.

Sporting over 30 hours and up to 70 hours must make this one of the most longest lasting Bluetooth GPS Receivers using 2xAA Batteries.

The full review can be read here.

Comments ?