Seidio G2500 Cradle for the 4700 and 6300 iPAQ
Date: Tuesday, November 23 @ 20:25:46 UTC
Topic: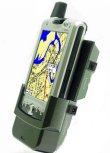 Seidio have released two new versions of the G2500 cradles for the new HP iPAQ 4700 and 6300 series. These cradles as with the previous G2500 cradles support an integrated speaker with volume control, GPS Ready (with option GPS Wired Receiver), DC Out Port for charging a celluar phone or Bluetooth GPS Receiver, and can be hard wired into the car electrics (12V-24V) or using the supplied accessory charger plug to power the speaker and GPS Receiver.

For more information check out the Seidio Website

Comments ?