OnCourse Navigator 4 Review (Navigon USA)
Date: Saturday, November 13 @ 11:19:31 UTC
Topic: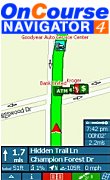 We recently reviewed the new Navigon Mobile Navigator | 4. Now we have reviewed the new American version called OnCourse Navigator 4. This review attempts to expand on the European review, and to show some of the US specific aspects of the Navigon engine that sits behind OnCourse Navigator 4.

In Europe, Navigon is one of the big three players in the market for Pocket PC based navigation systems – it will be very interesting to see how the US market will react to the introduction of such a strong player, now that OnCourse Navigator is available over here. It will have to be seen how the completely different user interface will be received by the american users.

The full review is available here.

Comments ?