Brit Passport Seized For Speeding
Date: Tuesday, August 07 @ 10:47:39 UTC
Topic: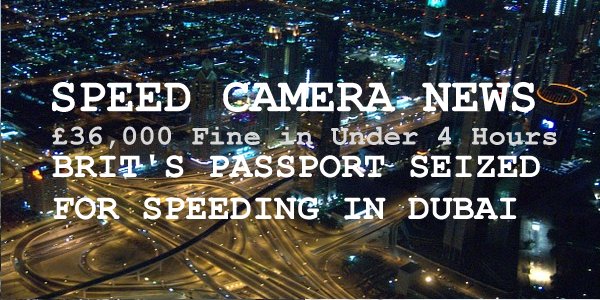 Get Speed Camera Warnings For SatNavs
Get Speed Camera Warnings For iOS (iPhone and iPad)
Get Speed Camera Warnings For Android (phones and tablets)

A British tourist has been handed a £36,000 fine in just three and a half hours after he raced his rented £260,000 Lamborghini across Dubai.

The man drove the £560 per day Lamborghini Huracan in the early hours of July 31st at speeds of up to 240kmh (150mph) - he was caught by several speed cameras on the eight-lane Shiekh Zayed highway.

The Huracan's owner, Mohammad Ibrahim, received several text messages from the car's computer system alerting him that the vehicle was continually breaking the speed limit. Concerned, he texted the driver telling him to slow down.

When interviewed by The National newspaper, Mr. Ibrahim said, "I had warned him that there are cameras everywhere in Dubai and that he would be liable for the fines".

Click here to read more...

Click here to discuss...