Ariane 5 lifts off with four more Galileo satellites
Date: Friday, November 18 @ 04:19:12 UTC
Topic: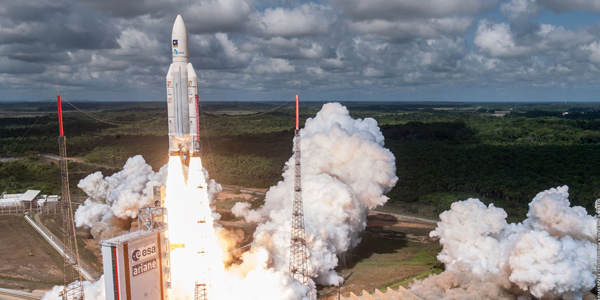 An Ariane 5 rocket completed a successful launch from Europe's Spaceport in Kourou, French Guiana yesterday afternoon carrying four Galileo satellites.

The launch took place on time and the satellite deployment was performed by a new payload dispenser system from Airbus Safran Launchers. The first pair of satellites were released 3 hours and 35 minutes after launch and the second pair following 20 minutes later.

The four spacecraft are called Antonianna, Lisa, Kimberley and Tijmen – named after children from Italy, Hungary, Malta and The Netherlands who won a European drawing contest.

This launch brings the Galileo system to a total of 18 satellites and was the first time four have been launched at once and also marks the first use of Arianespace's Ariane 5 heavy-lift launch vehicle.

Source: esa.int

Click here to read more...

Click here to discuss...