Driver trapped in car overnight due to satnav wrong turn
Date: Thursday, August 11 @ 05:15:01 UTC
Topic: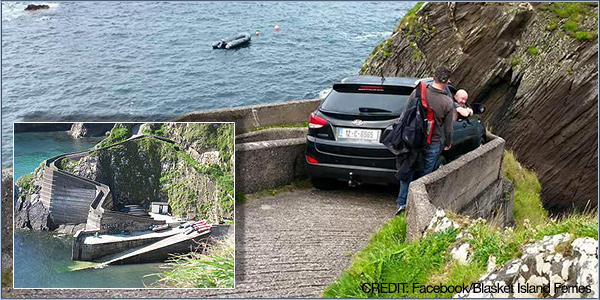 Most of us will have misread a satanv's turn instructions on occasion, all of us will have been lost at some point, but I'm struggling to understand how anyone could have driven down this steep and very narrow concrete ramp and thought they could make the 180 degree turn near the bottom in a large car!

But that's what this hapless motorist tried to do as he drove down the pedestrian only ferry access ramp at Dunquin where boats leave for the Blasket Islands off the west coast of Ireland. And he was sufficiently determined that he managed to wedge his car between the walls and spent the night stuck, blocking access to the pier, until police arrived the next morning.

Source: Facebook - Blasket Island Ferries

Click here to read more...

Click here to discuss...