If you think city traffic has gotten worse - you're right
Date: Thursday, March 24 @ 13:45:12 UTC
Topic: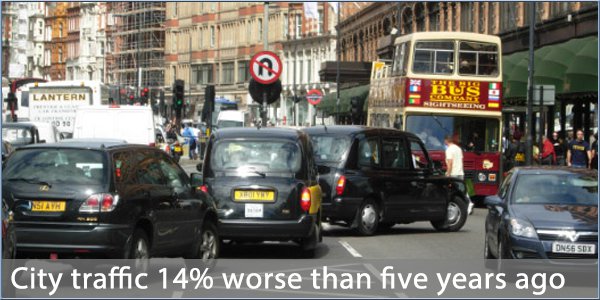 The annual Traffic Index report from TomTom has the data to prove what we all suspected, traffic congestion has worsened, and markedly so, in the last five years.

Analysis of 14 trillion pieces of world wide traffic data has shown that the morning rush hour is now 10% worse than it was in 2010, UK city congestion is now 14% worse and the evening rush hour is now 19% worse.

The statistics are depressing and reveal drivers commuting into the UK's top 25 cities wasted 127 hours a year stuck in traffic last year.

Belfast is the worst city in the UK for traffic, London is 20th in the world table of most congested cities and 2nd in the UK whilst Manchester is 3rd.

Ralf-Peter Schaefer, Vice-President of TomTom Traffic said, "People simply aren't doing enough to change their travel habits - such as working flexible hours, avoiding peak commuting times, making use of real–time traffic information and trying alternative travel modes. If only five per cent of us changed our travel plans, we could improve traffic congestion on our main roads by up to thirty per cent".

The full report, based on data from January - December 2015 can be read via the source link below.

Source: tomtom.com/trafficindex

Click here to read more...

Click here to discuss...