Rinspeed concept car deploys TomTom Bandit equipped drone
Date: Thursday, March 10 @ 10:47:07 UTC
Topic: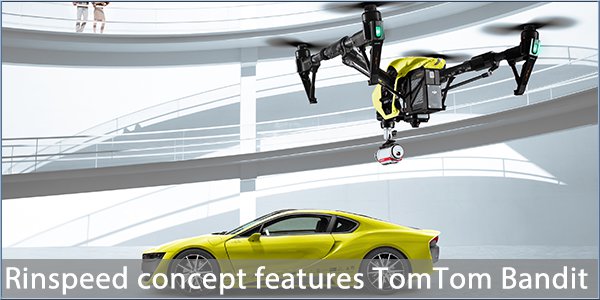 Rinspeed, a Swiss automobile manufacturer, unveiled their latest concept car at the Geneva Motor Show.

The etos brings the option of autonomous driving and includes and on-board DJI drone equipped with a TomTom Bandit action camera to record the driver's exploits.

The Banditís industry-first ability to edit footage without having to download it means the driver can shoot video, then edit and share in minutes. All made possible via the Banditís built-in Media Server and video highlights captured by in-camera action sensors (GPS, accelerometer, gyro, barometer and compass).

"The TomTom Bandit was an obvious choice for etos" says Frank M. Rinderknecht, CEO of Rinspeed. And Peter-Frans Pauwels, Co-founder of TomTom said "This is an exciting encounter of two like-minded companies."

Previous notable concepts from Rinspeed include the sQuba, based on a Lotus Elise and which was able to fly underwater and the Splash, a car that was equipped with a hydrofoil.

Source: Rinspeed

Click here to read more...

Click here to discuss...