CoPilot Live 5 Mammoth Review - World Exclusive!
Date: Thursday, July 22 @ 07:40:08 UTC
Topic: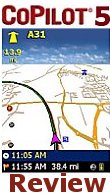 As always, PocketGPSWorld.com tries to bring you the major Reviews first where possible, and this is yet another World Exclusive Review of CoPilot Live 5! It's not just any old review, it's a MAMMOTH so we have had to split it into two parts!

ALK really have out done themselves with CoPilot 5! CoPilot 5 is a superb product, a pleasure to use and will definitely get you from A to B with the least amount of hassle using CoPilot's Traffic feature! Coupled with the new features included in CoPilot 5 and the latest 2004 NAVTEQ maps, this really does make CoPilot 5 an application to reckon with!

CoPilot Live 5 offers a whole host of new features including 3D Maps, Night Mode, New GUI, Updated 2004 NAVTEQ Maps (Including M6 Toll Road!), Traffic Avoidance, Landscape mode support and much more!

Read the full review here.

Comments ?