PRESS RELEASE - CoPilot Live | Pocket PC 5
Date: Wednesday, July 21 @ 14:45:31 UTC
Topic: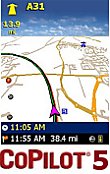 London, UK - July 21 2004 ALK Technologies Ltd, leading developer of transportation systems, today announced the Worldwide launch of CoPilot live | Pocket PC 5, the most feature-packed and user-friendly CoPilot navigation system to date.

CoPilot live transforms a Windows Mobile-based Pocket PC into a powerful portable Sat Nav System, complete with lightening fast calculation of routes and spoken turn by turn directions door to door. Drivers will benefit from many new features including redesigned map displays with 3D view; low-glare night mode, the London Congestion Charge, and even safety camera alerts.

CoPilot live | Pocket PC 5 contains updated street maps which, unlike most satellite navigation systems, now include the UK's M6 Toll Road, the Isle of Man, Channel Islands and extensive coverage of Ireland. It's the portable navigation system that drivers can depend on for accurate directions wherever they are, no matter what vehicle they are driving.

New Features in CoPilot live | Pocket PC 5 - Welcome Screen to help first time users set-up the system and get up and driving easily - Detailed navigation directions on screen and spoken in nine European languages - 3D map display, and night mode provide an improved user experience, customisable to driving conditions, but without compromising driver safety. - Enhanced Driver Safety Mode provides a new arrow graphic and simplified turn instruction to emphasise junctions and to highlight the road ahead. - Updated maps from NAVTEQ, leading supplier of maps to the automotive trade. New maps include the Isle of Man, Channel Islands, more detailed coverage of Ireland and the UK's M6 Toll road. - Provides an alternative if your route passes through the London Congestion Charge zone. - Additional options to customise CoPilot live's display and turn instructions. - Pick a stop from any map displayed, simply by pointing with the stylus.

For more information, screenshots and to read the full press release, click here.

PocketGPSWorld.com will have a full review available within the next 24 hours!

Comments ?