Arianespace prepares for VS12 launch on September 10th
Date: Thursday, August 27 @ 13:12:01 UTC
Topic: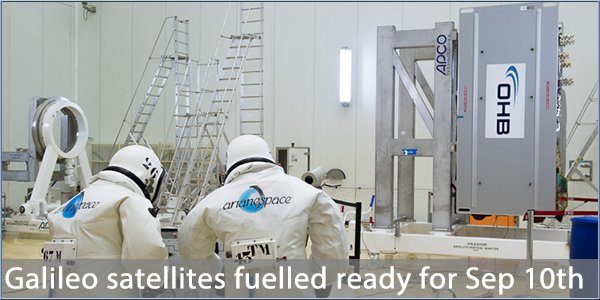 The latest two Galileo satellites have been fuelled at the french Guiana Spaceport in preparation for the forthcoming launch attempt scheduled for September 10th.

The two satellites will be launched on flight VS12, "12" marking the twelfth Arianespace launch using the medium-lift Soyuz rocket launcher.

The satellites were built at OHB's facilities in Bremen, Germany and use a navigation payload designed and built by Surrey Satellite Technology Ltd in the UK. They will become satellite numbers 5 and 6 in the Full Operational Capability (FOC) phase of the Galileo constellation which will eventually number 30 satellites.

Orbiting at an altitude of 23,300 km, Galileo will provide high-quality and high-accuracy positioning and timing services and is designed to be fully interoperable with the US GPS and Russian Glonass services.

arianespace.com

Click here to read more...

Click here to discuss...