Hiking with GPS in the Canadian Rockies
Date: Thursday, July 15 @ 21:33:38 UTC
Topic: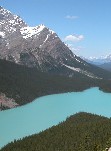 Lutz has just returned from a two week hiking trip in the Canadian Rockies and wanted to share his experiences, both in the preparation and "on the rocks".

This mini review gives an insight into how he prepared, where he sourced his map data, and how the whole trip worked out. Lessons to be learnt for the next venture into the wilds.

Read more...

Comments ?