Nokia HERE reinvents maps for self-driving cars
Date: Thursday, December 18 @ 08:35:34 UTC
Topic: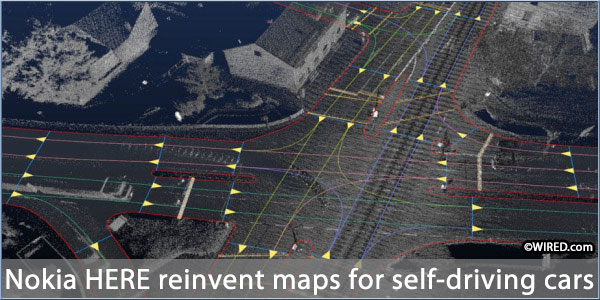 An interesting article from Wired.co.uk who have been given a demonstration of Nokia HERE (formerly Navteq) mapping data that has been reinvented to cater for the future of autonomous, self-driving cars.

We're all familiar by now with the multi-layers of street data captured by mapping companies to enable them to create navigable digital maps. The base road layouts, lane information, turns, bridge heights, speed limits, POI info etc.

But the future, with the onset of self-driving cars, means these maps need to be upgraded and Nokia HERE has been working on high definition mapping with centimetre level accuracy, and data on lane closures and other traffic issues that is updated constantly.

It's a massive undertaking that begins with a laser generated scan of the roads, with 700,000 points of data per second captured using lidar. This data allows a 3D map to be created with high resolution.

Whether you can't wait for self-driving cars or dread their arrival, they're coming and sooner than you might think. We already have cars able to identify and park in a spot, adaptive cruise control that accelerates and brakes with the traffic ahead and it's technically possible to have autonomous vehicles now. But the supporting infrastructure will need to be upgraded and these high definition maps will form a key part of that.

Source: wired.co.uk

Click here to read more...

Click here to discuss...