Amazon Loses Patience with FAA Re. Drone Trials
Date: Thursday, December 11 @ 05:58:23 UTC
Topic: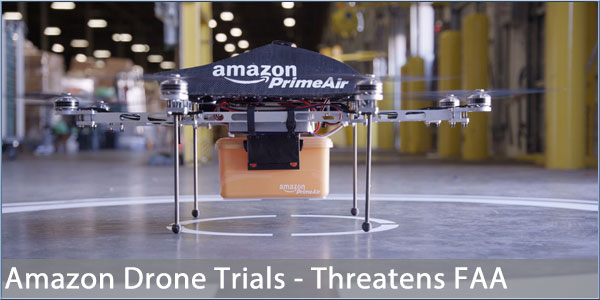 Online retailer Amazon has plans to roll out a fleet of semi-autonomous multicopters which will deliver small packages direct to your home.

But its research and testing is being thwarted by the US Aviation regulator, the Federal Aviation Administration (FAA), who have been dragging their heels on rules regarding commercial use of these types of vehicles.

Whilst its not difficult to see why the FAA is reluctant to give the green light to what could be hundreds of these things buzzing over our heads, Amazon has lost patience with the regulator which has, so far, only granted approval for flight testing to a small number of organisations, and Amazon is not one of them.

Amazon has now threatened to move its testing and any future operations overseas, they are already conducting tests at a research facility in Cambridge. Despite concerns over the safety of these vehicles, which rely on GPS for navigation, and a multitude of other sensors for orientation and stability, Amazon thinks Amazon Prime Air, as it will be known, could cater for deliveries of sub 5kg packages, which makes up more than 86% of its business.

Source: Amazon.com

Click here to read more...

Click here to discuss...