BIKEHUD KickStarter Campaign to Fund 2nd Gen HUD
Date: Thursday, November 27 @ 09:17:18 UTC
Topic: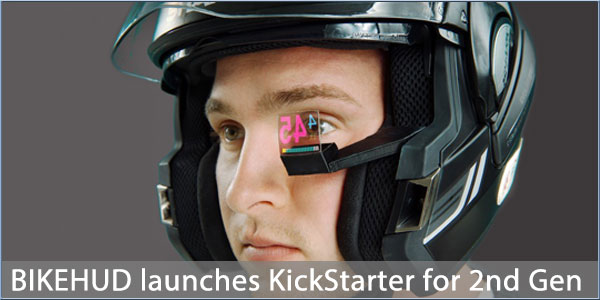 We covered the launch of BIKEHUD CLASSIC back in January of this year. Unlike similar solutions from Skully and NUVIZ, BIKEHUD has been on-sale and available to buy for nearly a year.

Now the UK company behind BIKEHUD, BikeSystems, is seeking funding via KickStarter for its second generation system called BIKEHUD ADVENTURE.

BIKEHUD ADVENTURE is a head-up-diplay module that fits into your existing helmet. it is not a custom helmet so you can move this between helmets if you upgrade to a newer lid. It has a wireless display module that displays speed, GPS nav data etc and interfaces with a smartphone.

BIKEHUD ADVENTURE PLUS adds a controller module which is installed on the bike and gives you extra data such as gear position, revs, indicator operation etc. BIKEHUD ADVENTURE VISION adds rear and forward facing bike mounted HD cameras.

Motorcycle helmets are very much a personal preference, because this solution is standalone it means you can choose whichever helmet make or style you prefer, open faced, closed etc and still have the benefits of a HUD system.

Source: kickstarter.com

Click here to read more...

Click here to discuss...