SSTL tech used to stabilise Philae's landing
Date: Thursday, November 20 @ 05:14:23 UTC
Topic: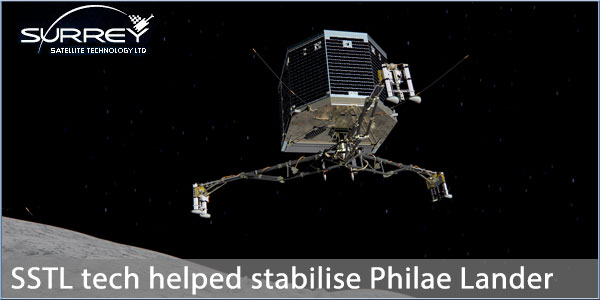 OK, this has little to do with GPS I admit, but the Rosetta mission, and Philae's comet landing, has been such a success that when this blog post fell into my inbox I wanted to pass it on.

As many of you will already know, Surrey Satellite Technology Ltd (SSTL) designs and manufacturers satellites and sensors including Europe's fledgling navigation network, Galileo.

It's expertise is widely regarded so back when the Rosetta was being designed, SSTL was approached for assistance. The Philae lander needed a small momentum wheel. This wheel spins at a constant rate and locks the lander on course.

SSTL had experience in designing small momentum wheels, whilst these have a different purpose to reaction wheels (they are spun up when a satellite needs to re-orient itself), the basic designs are similar and SSTL was awarded the contract.

Needless to say, as well as the complexities of designing hardware that must survive the rigours of a launch and the vast range of heat and cold, SSTl also had to cater for a 10 year journey to comest 67P during which the lander would be dormant.

When you consider all the things that had to work perfectly when activated after a 10 year sleep, the success of the mission is even more amazing. SSTL's blog link below gives much more detail on the design, development and testing process that was required. Fantastic work by a UK team.

Source: sstl.co.uk/blog

Click here to read more...

Click here to discuss...