Navdy smartphone connected HUD
Date: Thursday, August 07 @ 08:18:26 UTC
Topic: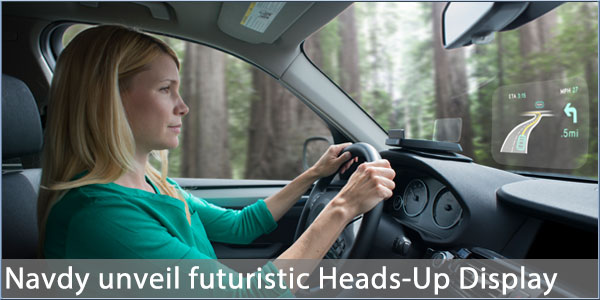 US company Navdy have unveiled their forthcoming in-car heads-up display and wow seems to be the universal reaction.

Navdy brings the kind of heads-up displays found in high-end cars to everyone. Using a compact full colour projector and a transparent screen, Navdy integrates with Android and iOS smartphone apps and projects navigation instructions, music and social media apps onto the display allowing you to keep your eyes on the road. The OBDII connection allows it to access speed, RPM and a myriad of other vehicle data as well.

Navdy uses voice recognition and gestures to interact with it and the long line of hardware features include an Android operating system, iR camera for gesture control, accelerometer, OBDII connectivity, WiFi, Bluetooth, integrated speaker and audio out and a specially designed mount to allow it to be positioned optimally.

It's a lot of kit for the money, compared with Garmin's very much more basic HUD, which is only £50 less, Navdy's solution promises a lot more functionality.

So where's the catch? Well it's only available for pre-order currently at a discounted £200 with shipping expected in early 2015.

Source: Navdy.com

Click here to read more...

Click here to discuss...