CoPilot v9.6 Update adds new features
Date: Thursday, May 15 @ 07:29:27 UTC
Topic: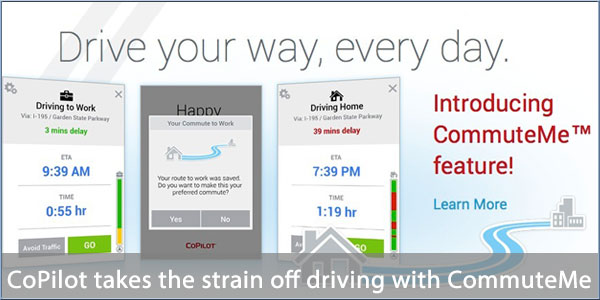 CoPilot have rolled out an update that adds a new feature, 'CommuteMe' which aims to reduce your commute times and a new drag and drop trip planner.

CommuteMe learns your preferred route to and from work and then provides you with uptodate information on traffic and your arrival time. You can now ensure you arrive at work on time without having to plan a route in advance.

The Drag and Drop trip planning looks like it could be a winner. Planning any journey that involves multiple stops can quickly become a real headache but the new interface allows easy planning and ordering and makes good use of CoPilot's optimisation abilities. It can even re-arrange stops to produce the most efficient route taking in all the locations.

Windows 8 users will also benefit from the addition of voice command. CoPilot v9.6 is available now as a free update for existing customers in the iOS, Android and Windows Phone 8 app stores.

Source: blog.copilotgps.com

Click here to read more...

Click here to discuss...