Workers use sat-nav to to move around new aircraft carrier
Date: Thursday, March 27 @ 06:51:46 UTC
Topic: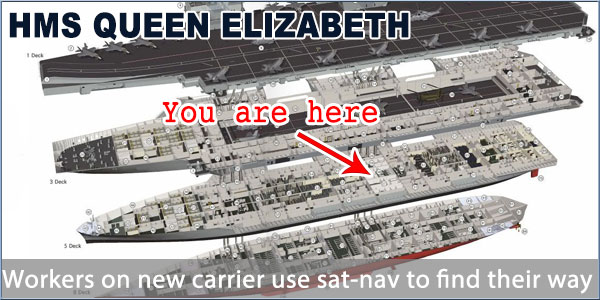 The new aircraft carrier being built in Rosyth is so large that workers were getting lost inside it.

So BAE Systems spent £50k on a navigation system that allowed workers to navigate the interior of the ship which has 3000 compartments spread across 12 decks.

The steel construction meant a normal sat-nab would never work so the solution was QR codes posted throughout the interior. Workers were given an app that could scan the code and show them where they were and how to get to where they needed to be.

BAE have calculated the solution has saved them over £1m in lost time acquainting new workers with the layout.

The Queen will name the first carrier HMS Queen Elizabeth on 4th July.

Click here to read more...

Click here to discuss...