Apple unveil CarPlay
Date: Tuesday, March 04 @ 11:31:17 UTC
Topic: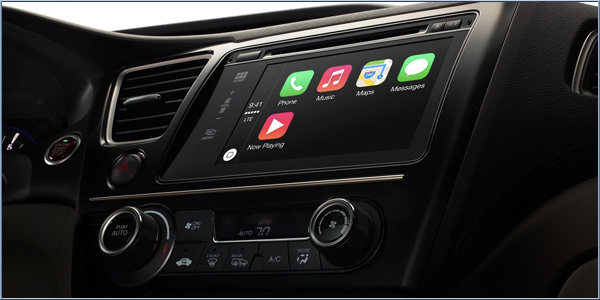 Apple has unveiled CarPlay which will feature in a forthcoming update to iOS7. CarPlay is being sold by Apple as their 'iPhone In the Car' solution and, in partnership with participating vehicle manufacturers will connect the iPhone with the in-dash display and steering wheel controls.

Supported apps will be available via the in-dash touch-screen and a dedicated button for Siri will allow for voice control. Supported apps include Music, Messages, Maps and Phone. Also supported are Podcasts, Beats Music, iHeartRadio, Spotify and Stitcher with more being announced soon.

Only iPhones that support the lightning connector will be supported so, currently, that means iPhone 5, 5C and 5S only.

The first manufacturers on-board are Ferrari, Honda, Hyundai, Jaguar, Mercedes-Benz and Volvo who will have models available with CarPlay in 2014. Other manufacturers committed to supporting CarPlat are BMW, Chevrolet, Ford, Kia, Land Rover, Mitsubishi, Nissan, Opel, PSA Peugeot Citroen, Subaru, Suzuki and Toyota.

Source: www.apple.com

Click here to read more...

Click here to discuss...