Bike HUD - Now with navigation and speed camera alerts
Date: Thursday, February 20 @ 06:45:41 UTC
Topic: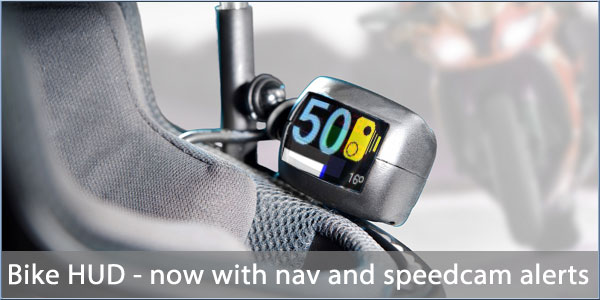 Bike HUD is a heads-up display (HUD) from a British company, designed for motorcyclists. It consists of three separate units, a small on-board computer, a handlebar mounted control switch and an in-helmet display unit.

The display is designed to fit any helmet and sits at the periphery of your vision so that it does not obstruct your view. It has been cleverly designed so that its display is focussed at infinity, removing any need for your eyes to refocus, and the information is presented such that it can be easily read without diverting your eyes from the road.

We've been following the progress of this innovative device and the company has now unveiled a smartphone powered navigation and safety camera add-on which is currently in beta. GPS navigation guidance is presented with clear and simple turn instructions and, in a similar fashion, speed camera warnings.

Currently these require an iOS smartphone but support for Android is coming.

The Bike HUD is available now at £347 from the makers website.

Source: www.Bike-HUD.com

Click here to read more...

Click here to discuss...