A route planner for UK public transport
Date: Thursday, February 06 @ 05:41:36 UTC
Topic: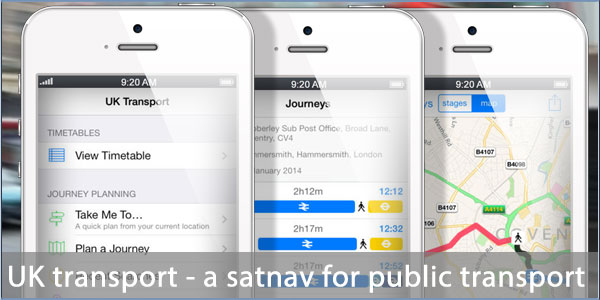 Whilst this isn't a GPS app, it is a navigation app and one with a novel, and for many, very useful twist.

UK Transport is an iOS app that allows you to plan journeys using buses, coaches, trains, tubes, trams and ferries. Just enter your start and end locations and the app does all the hard work.

The resulting itinerary shows you which service each particular leg of a journey is using, shows the walking time between a service change, provides a handy map and even tells you what Bus number you need to be looking for.

UK Transport is a well thought out app that could be a boon to anyone who relies on public transport, and especially useful to tourists. Available in the AppStore for £5.99.

Source: uktransportapp.com

Click here to read more...

Click here to discuss...