CoPilot Live Summer Sale and Sweepstakes Competition
Date: Wednesday, August 07 @ 09:24:01 UTC
Topic: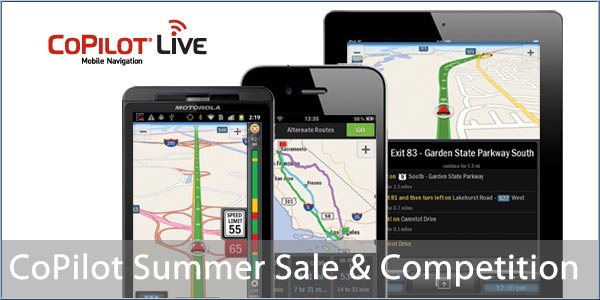 CoPilot have a summer sale running until the 11th August with up to 10% off and free traffic information for a year. For a limited time you can get CoPilot Live Premium Europe (standard or HD) for £29.99 saving £5.00 over the regular price of £34.99 and the Europe West version comes in at £25.99 a saving of £4.00. Someone at CoPilot should check their sums though as I make the discount closer to 20% than 10%, a bigger discount than advertised. Click here for more details of the sale.

ALK are also running the CoPilot Live Summer Sweepstakes giving users a chance to win an amazing† CoPilot-ready Lumia 520 or one of our 14 CoPilot sat nav apps for iOS, Android or Windows Phone 8. Click here for more details and to enter the competition.

Click here to read more...

Click here to discuss...