CSR launches SiRFstarV 5e GNSS engine
Date: Thursday, June 20 @ 06:26:34 UTC
Topic: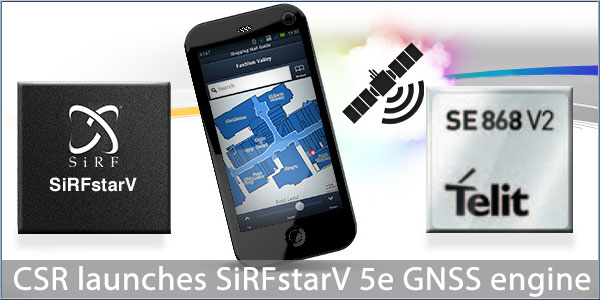 CSR have debuted their SiRFstarV 5e GNSS engine, a new solution optimised for indoor positioning on smartphones, cameras and health devices.

SiRFstarV 5e supports concurrent GPS, GLONASS, SBAS and QZSS signals to provide a fast TTFF and the first commercial implementation of this new engine comes from wireless solutions specialist Telit Communications in the form of their Jupiter SE868-V2 module.

The Jupiter SE-868-V2 benefits from the full range of SiRFstarV 5e features including better accuracy, fast TTFF, lower power consumption and InstantFix.

InstantFix allows faster TTFF for devices without cellular connections using 'Extended Ephmeries' (EE) to predict three days forwards. Devices with connectivity can use EE to predict unto 31 days forwards.

Source: CSR.com

Click here to read more...

Click here to discuss...