Parrot launch ASTEROID Smart
Date: Thursday, February 28 @ 09:57:43 UTC
Topic: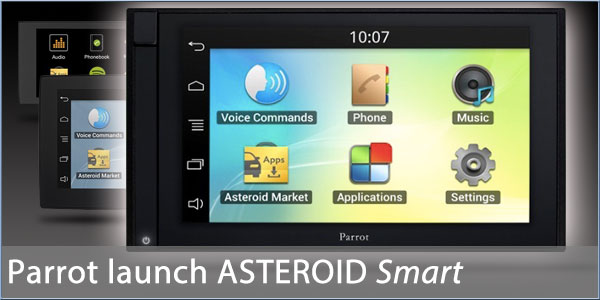 Parrot have launched the ASTEROID Smart, a 6.2" in-dash.

The original ASTEROID was a single DIN, in-dash head unit equipped with a 3'2" TFT display. The new range now includes the Mini with a 3.2" screen, the Tablet with a 5" screen and now the Smart with a 6.3: screen.

The ASTEROID Smart is a double-DIN, in-dash device equipped with a multi-touch screen. It supports handsfree bluetooth telephones, has WiFi, internet access (if connected to a 3G dongle or a smartphone with internet sharing), navigation, reversing camera support, multimedia, music and internet radio.

It's an interesting device for sure. Although it supports navigation, it's up to you to install your choice of navigation app. But, like other ASTEROID products, the unit is slightly limited as it's restricted to apps available in Parrot's ASTEROID Market as it does not have access to the Google Play Store.

So whilst being able to choose your own apps is great, the choice will be severely limited by what Parrot make available in their store. And as we found with CamerAlert, they refuse access to some apps if it conflicts with partner apps they have chosen. We have to circumvent that by making the CamerAlert installer file available for manual install, but that won't be an option for many apps.

At £499 it's a lot of hardware for the money. If you have a car with a double-DIN space and are looking to upgrade, it gives you a powerful, customisable head-unit.

Source: Parrot.com

Click here to read more...

Click here to discuss...