Suffolk Speed Cameras Catch 4,310 In 2012
Date: Friday, February 15 @ 20:27:30 UTC
Topic: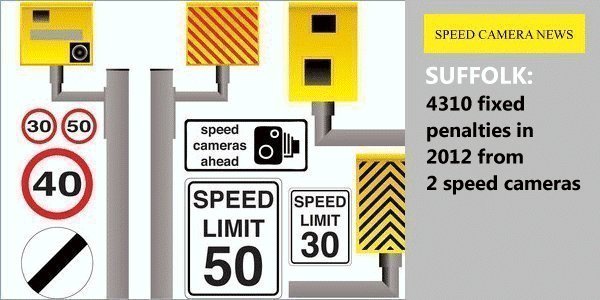 Suffolk speed cameras snap 4,310 motorists in a year - but only a third of fines have been collected.

The two fixed speed cameras in Suffolk recorded a total of 4,310 speeding offences in 2012, a Freedom of Information request revealed.

The top speed recorded by the cameras was 108mph, which is more than twice the legal speed limit. The cameras, located on the A12 at Benhall and on the A140 at Coddenham, are situated in areas where there is a 50mph speed limit in force.

A total of 2,551 drivers were caught on camera at Coddenham, and the Benhall speed camera recorded 1,759 speeding offences.

But despite the vast quantities of speeding fines doled out, comparatively few have been collected.

Just 929 fixed penalty notices have been paid from the Coddenham camera and 561 have been paid for the Benhall camera - meaning that only a third (34.6%) of fines has actually been collected.

Click here to read more...

Click here to discuss...