TomTom Go Update!
Date: Friday, March 19 @ 13:19:17 UTC
Topic: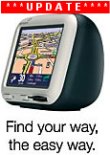 The PocketGPSWorld.com team had a good look at the new TomTom Go all-in-one navigation system at CeBit, and these are the findings:-

- TomTom Go has an internal chargeable battery that is good for 5-6 hours use outside a vehicle, allowing you to take TomTom Go with you and still use it!

- Interaction with TomTom Go is via the touch screen ONLY.

- TomTom Go has a two plane acceleration sensor with no moving parts unlike conventional gyro systems. The sensor will be good enough for several hundred meters so TomTom Go can continue to work when GPS signals are not available (for example in tunnels with exits).

- The case was designed by a sound engineer, so Voice Guidance can be heard over engine noise

- TomTom will be looking to supply plug 'n' go SD cards

Comments ?