Apple adds prominent report problem button in iOS 6.1 update
Date: Thursday, January 31 @ 10:33:03 UTC
Topic: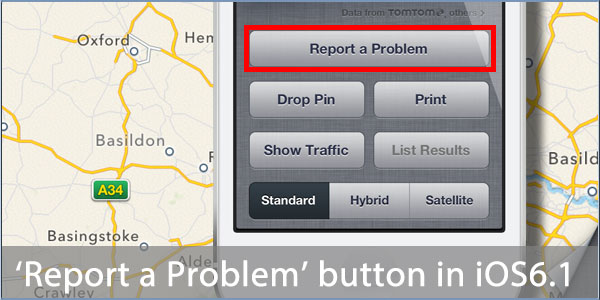 Amongst a number of minor changes in this week's iOS 6.1 update, Apple have moved the 'Report a Problem' feature to the main preferences page in the Maps app, accessed by tapping the page curl at bottom right.

The new full-width 'Report a Problem' button is now hard to miss, in previous versions it was a small text link.

Apple Maps was met with an avalanche of criticism when it first launched. Numerous map errors and other problems caused a furore of criticism and whilst Apple have worked hard to resolve them, many still remain.

Whilst the market rumour mill still believes Apple might buy TomTom, it seems Apple are intent on resolving the issues themselves and has even been hiring ex-Google Maps employees.

Click here to read more...

Click here to discuss...