TomTom Launches Newest Version of Navigation Solution PPC
Date: Thursday, March 18 @ 03:27:27 UTC
Topic: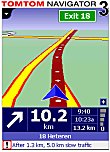 CeBIT, Hannover, 18 March 2004 – TomTom today announced a new and improved version of its award-winning car navigation software solution -- TomTom Navigator™ 3 for Pocket PC. Drivers using TomTom Navigator 3 for on their Pocket PC will enjoy more flexibility and power than ever before.

"With TomTom Navigator 3, TomTom is aggressively expanding its leadership position by offering consumers the best features in personal navigation at the best value," says Harold Goddijn, chief executive officer of TomTom. "New features such as the optional Traffic service (announced 18 March, 2004: see separate press release), an Itinerary Planner for planning multi-destination trips, as well as updated maps and the new Major Roads of Europe map ensure that TomTom Navigator 3 remains the leading navigation solution for Pocket PCs."

For the full press release, read this message.

Comments ?