Nestlé Promotion - chocolate bars fitted with GPS Trackers
Date: Wednesday, September 19 @ 09:09:52 UTC
Topic: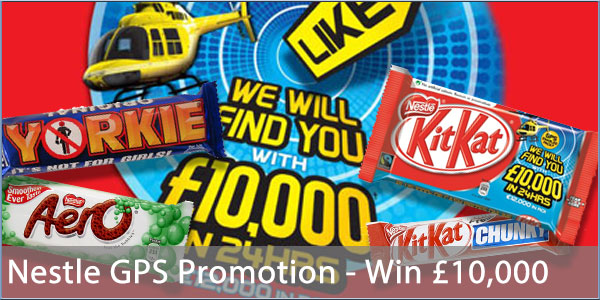 Nestle have launched a Willy Wonka style promotion in the UK with six lucky people winning £10,000 each.

The rather creepily named 'We Will Find You' promotion involves KitKat 4 Finger, KitKat Chunky, Aero Peppermint Medium, and Yorkie Milk chocolate bars. Six have been fitted with a GPS tracker which will activate when unwrapped. A team will then locate you and hand over £10,000!

A secondary promotion has 3,000 posters with NFC and a QR code. Smartphone users will be directed to a mobile landing page where you can enter a competition with 2,000 x £10 prizes. The mobile site also informs people how many of the six GPS-fitted bars are still to be found.

Source: www.nestle.co.uk

Click here to read more...

Click here to discuss...