How about a pair of GPS equipped brogues?
Date: Tuesday, September 18 @ 10:28:32 UTC
Topic: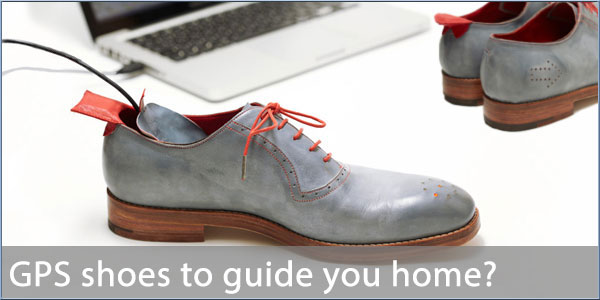 How about these GPS equipped shoes for a novel idea?

Commissioned by Global Footprint, an arts and heritage project that builds on Northamptonshire's international boot and shoe reputation, artist Dominic Wilcox designed these unique hand made 'No Place Like Home' GPS shoes.

Dominic fitted a GPS receiver in the heel of one shoe, complete with a heel tag that contains the antenna. Destinations are uploaded via USB and a Wizard of Oz style click of the heel activates guidance.

Directions are provided via LEDs embedded in the toes. A circle of LEDs in the left shoe show compass direction and a line of LEDs in the right shoe indicate distance. All this is controlled using Arduino micro-controllers with the shoes communicating with each other wirelessly.

The end result is a very smart looking pair of hand made brogues. Only a closer inspection would reveal the little touches such as the arrow decoration on the sides and the etched map illustration on the leather soles.

Sadly these shoes can't be bought but you can see them at Dominic Wilcox's solo exhibition at the KK Outlet, 42 Hoxton Square, London, until the 26th September.

Source: No Place Like Home GPS Shoes

Click here to read more...

Click here to discuss...