Bad Elf announce GPS Pro - a wireless GPS for iOS
Date: Thursday, July 26 @ 09:38:29 UTC
Topic: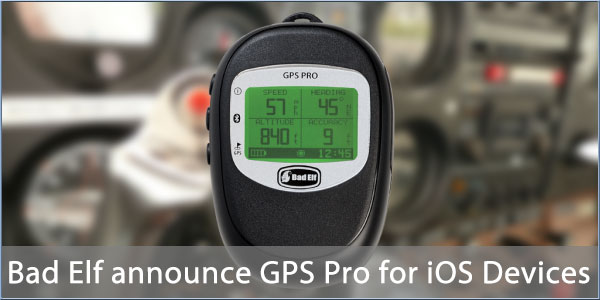 Back in September of 2011 we reviewed Bad Elf's first product, a dongle for iOS devices that added GPS capabilities. Whilst iPhones now come with GPS, it's not available on iPad WiFi or iPod Touch.

And now Bad Elf have released their second product, the GPS Pro, a small wireless GPS receiver and datalogger that communicates with your iOS device over Bluetooth and can handle connections from up to 5 devices.

Now many of you who have been with us for a while will wonder why on earth we'd want to go back to a wireless Bluetooth GPS? Well there are very good reasons for users such as pilots, marine users etc and this is firmly targeted at that market.

It allows you to mount the receiver up on the glareshield in an aircraft, you can keep your device in a dry bag or other protective case if you're a marine user etc, etc.

The Bad Elf GPS Pro launches at the Oshkosh airshow in the US this week and we hope to have a review unit soon.

Source: Bad-Elf.com

Click here to read more...

Click here to discuss...