TomTom admits device 'leap year' bug
Date: Tuesday, April 03 @ 17:50:53 UTC
Topic: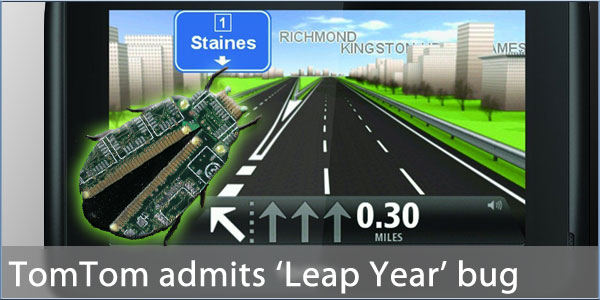 TomTom has admitted that a leap year bug is behind the issues many users have reported with loss of satellite reception.

The issue first came to light on 31 March with many users reporting problems obtaining a satellite fix. The bug appears to affect the GPS QuickFix files.

TomTom have a page here which states they are working in a fix.

The issue seems to be affecting a wide range of models. Are you experiencing this issue?

Update: TomTom have now released a software update.

"TomTom releases new software update to solve GPS reception issue on some devices.

Some customers have been experiencing GPS positioning issues since 31st March. The issue is caused by a 'leap year' bug in the software of the GPS receiver provided by a third party.

A software update fixing the issue is now available via MyTomTom. The update is straightforward. Simple instructions about how to update your device can be found at www.tomtom.com/386.

Please accept our sincere apologies for the inconvenience. We are fully focused on getting our impacted customers back on the road."

Click here to read more...

Click here to discuss...