Renault equips Twingo with CoPilot Live GPS navigation
Date: Monday, February 27 @ 11:44:43 UTC
Topic: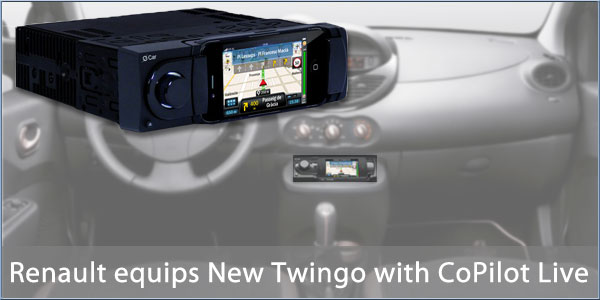 Mobile World Congress, Barcelona. Renault has selected ALK's CoPilot Live navigation app to form part of the Twingo's integrated iPhone powered infotainment system.

Renault will be offering Oxygen Audio's O Car System as a dealer fit option. The O Car system is a single-DIN head unit that incorporates an iPhone cradle. When an iPhone is docked it becomes a part of the dashboard allowing control of car stereo functions through the dedicated e-Renault app.

The e-Renault app will be available free in the AppStore and includes a 30 day navigation trial. After the trial period has expired, a full navigation licence can be purchased from within the app.

Click here to read more...

Click here to discuss...