CamerAlert Now FREE In All App Markets
Date: Tuesday, February 07 @ 12:00:51 UTC
Topic: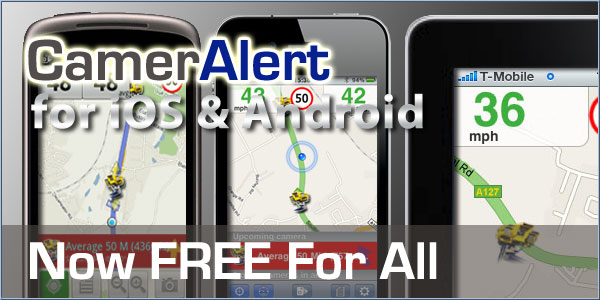 Last week we tested the waters and made the iOS version of CamerAlert FREE to download.

The change was a huge success with a massive spike in downloads and camera reports and so, we have no decided, to make the app a free download in both Android and iOS app markets.

The app is now free to download and, whilst we reserve the right to change that at some future point, we hope to keep it free.

If you haven't sampled the app yet, please do. With in-app database updates, directional camera data (99.97% of our UK cams have directional data) and many user customisable options, it's one of the best ways to get speed camera alerts and existing subscribers can use their subscriber user details to link their smartphone to their subscription.

If you are an existing user, please take the time to write a review and let's get this app back in the Top 10 again!

Click here to read more...

Click here to discuss...