Infinit Solar Backpack - Member Christmas Offer - Save 35%
Date: Saturday, November 19 @ 17:57:31 UTC
Topic: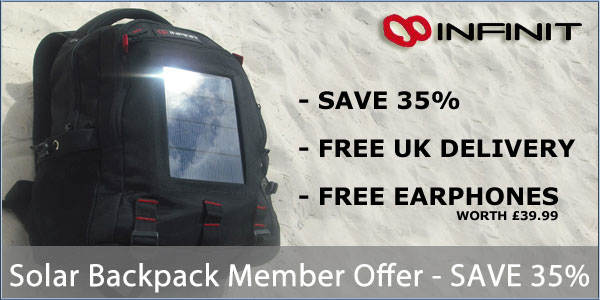 We reviewed Infinit's Solar Backpack in May last year. It's been a very successful product for the company, it has been featured on Young Apprentice and was chosen by Apple to be sold in their stores and on-line.

The backpack includes a 2200 mAh re-chargeable battery that can be topped up using the built-in solar panel and comes complete with a number of charge tips to allow you to recharge your favourite tech. It's a great solution and even though sun is in scarce supply right now, the battery pack is still useful and can be recharged from the mains or via USB using the supplied adapters. You can read our full review here.

Infinit have extended a discount of 35% on the normal retail price to members of PocketGPSWorld. To take advantage of this offer click here. You'll also receive a free pair of headphones so that could be two Christmas presents sorted.

Click here to read more...

Click here to discuss...