Good news for the GPS Constellation this week
Date: Wednesday, August 24 @ 14:19:11 UTC
Topic: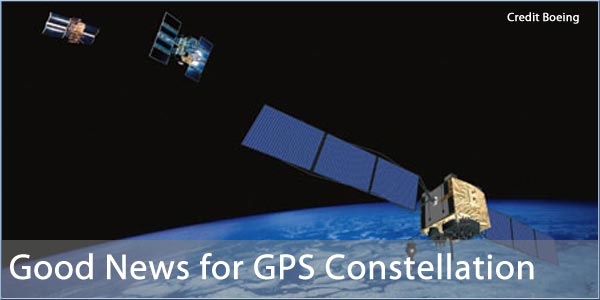 The last couple of weeks have seen some good news for the GPS Constellation. After the scare stories last year of the GPS Satellites failing and the USAF not being able to launch replacements quickly enough to prevent the GPS system stopping, a new GPS Satellite enters service and an old decommissioned Satellite was brought back online.

According to SpaceFlightNow.com GPS 2A-22 which was launched in August 1993 and decommissioned 2 years ago has been brought back to life to replace GPS 2A-27. Originally designed with a 7 year service lifetime the GPS Satellite has far outlasted its design life. GPS 2A-27 had been suffering from a faulty clock. The timing accuracy is the most critical component of the GPS as it is precise timing that enables the location to be calculated accurately.

Coming back to current time from 18 year old satellites. The latest GPS 2F-2 bird that was launched on July 16th has now completed its testing and has been inserted into the operational GPS Constellation. "The Air Force and allied military forces around the world use GPS devices in virtually every system to improve their capabilities and effectiveness while reducing risk to the warfighter," said Air Force Col. Bernard Gruber, director of the GPS Directorate. "This next-generation GPS IIF satellite has been set healthy and is ready to begin providing a strong, clear and secure signal."

Click here to read more...

Click here to discuss...