Exogear Exomount - Limpet Like Universal Mount
Date: Saturday, August 06 @ 17:05:52 UTC
Topic: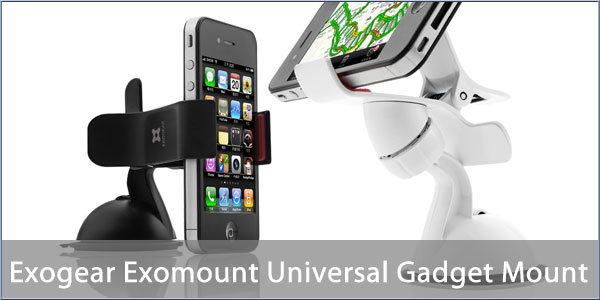 We've just taken delivery of a new universal gadget mount. And before you start yawning at the thought of yet another windscreen suction mounting solution, bear with me for five minutes as this is a rather special mount.

At first glance, Exogear's solution doesn't look that novel. The large wide jaws, lined with polyurethane, are designed to grip a wide range of smartphones and satnavs and the design, using a bulldog clip type arrangement, allows for easy device insertion and removal. It also has a locking swivel so the mount can be used in whichever orientation you choose. All good so far.

But the hidden beauty of this mount is it's base. Instead of relying on a basic suction mount as we have seen in a million other mounts, Exogear's Exomount uses an entirely a new design.

The base has a soft rubber cushion that uses a special tacky coating to ensure optimal suction. This allows it to work on surfaces that normal mounts would not be able to adhere to. And it works. In fact it works so well that it will hold firmly even before the suction lever is pressed.

We will publish a full review in the next few days but this mount is so good that we thought you needed to hear about it ASAP. Available in the UK for £21.99 here. Be sure to take a look at the demo video where it lifts a microwave!

Click here to read more...

Click here to discuss...