Apple Navigation - Is This Evidence That Moves Are Afoot?
Date: Thursday, June 23 @ 18:54:55 UTC
Topic: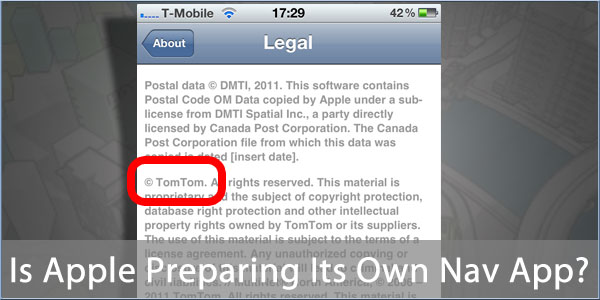 A number of web sites are reporting an interesting find buried in the iPhone OS legal disclaimers. Found under Settings > General > About > Legal and buried in amongst all the usual stuff is an entire section that has cryptic mentions for TomTom and its MultiNet map data.

TomTom are not the only ones to get a mention, a number of other map and map data companies are credited including Increment P Corporation, Corelogic and Urban Mapping.

There have been several rumours concerning moves by Apple in this area and whilst this legalese could be a red herring, maps are one area that Apple has so far been happy to leave to others.

Are Apple making moves in this area? We shall have to wait to find out.

Click here to read more...

Click here to discuss...