TomTom Start 20 series - too good for first-time buyers
Date: Friday, May 13 @ 12:58:12 UTC
Topic: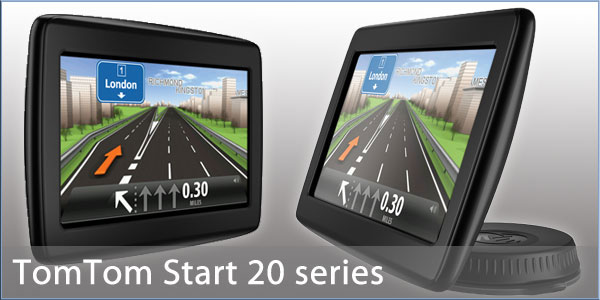 TomTom has announced the newest model in their range of satnavs, the Start 20 series.

Targetted at first-time buyers, this new model range is available in 4.3in and 5in screen sizes and comes with the latest software platform, NAV3, previously seen on the GO 1000 and VIA models.

Uniquely, the Start 20 series has a sensor which rotates the screen allowing the mount to be used on the windscreen or the dash. It's a neat feature but I can't help feeling that the opportunity to offer a portrait display option has been lost here.

Otherwise it's a very sleek unit that makes the more expensive GO 1000 and 1005 models look rather boxy and boring. The shell has a smoothly curved rear with the fixed, adjustable, mount and large speaker. A recessed micro-USB connector provides power and a computer connection and an as yet unused (to be activated with a later update) microSD slot is also provided.

The standard TomTom faire is all present here including IQ Routes and Lane Guidance. Custom POI support is still limited as it is with the other NAV3 models but the situation is improving.

There is no LIVE functionality in the models announced today and the Start 20 features a resistive touch screen (GO 1000 has capacitative) but all in all it's a great model and to my eyes at least, a much fresher design than its higher spec relatives.

Pricing is very keen. For the Start 20 UK 4.3in screen version is £129.99, 5in £149.99 and the Western Europe 5in version is £169.99.

For more information see the TomTom web site: http://www.tomtom.com/.

Click here to read more...

Click here to discuss...