Ordnance Survey Leads Way With New Colour Palette
Date: Wednesday, May 11 @ 18:08:46 UTC
Topic: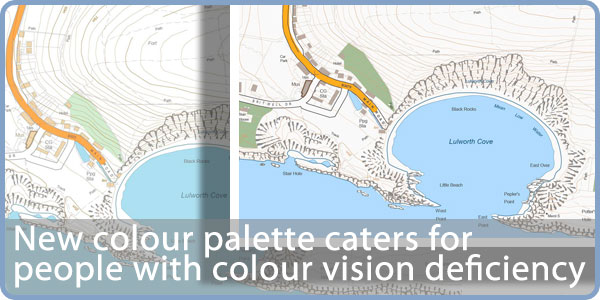 Ordnance Survey, Great Britain's national mapping agency, has been working with the Royal National Institute of Blind People to design anew colour palette accessible to all users including those who have a colour vision deficiency (CVD).

CVD affects approximately one in 12 men and one in 100 women in the UK. It can make the task of reading and interpreting a map much more difficult, the traditional colours used in Ordnance Survey maps use subtle shades which can be indistinguishable from one another.

Recognising this issue, Ordnance Survey created a user group and tested a number of sample palettes . Group members were asked to navigate around the map and interpret the data contained within.

The study team looked at the physics of light, human vision, colour theory and other areas and were assisted by academic experts from around the country. The research revealed that, despite existing CVD science, map users expected features to be depicted in certain colours and so the end result took all of this into account with the palette using more distinct colour shades.

Click here to read more...

Click here to discuss...