Garmin go Live with nüLink connected SatNavs
Date: Tuesday, May 10 @ 10:02:44 UTC
Topic: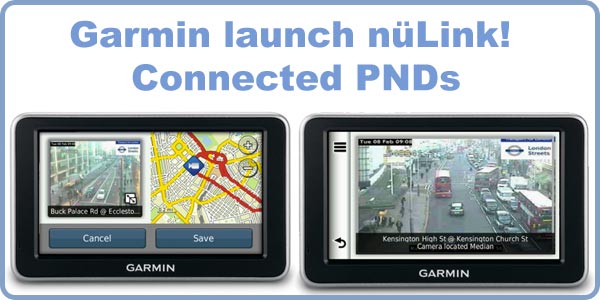 Today Garmin announce a new range of PND SatNavs. Called nüLink! the range has 3 models: the 2390, 2340, and the 2320. What differentiates these GPS devices from the previous Garmin products is the 'Live' functionality. The new PNDs include a cellular connection allowing the transfer of data from the Garmin servers to the PND. This allows Garmin to send and receive up to date traffic and other data allowing the driver to be kept aware of the latest road conditions.

There are 3 main areas of interest in the new NüLink! devices: 3D Traffic, Garmin Tracker, and Cyclops Speedwatch.

The Garmin 3D traffic service is a combination of conventional probe and editorial traffic information, and live traffic cameras. How often do you have traffic reports that are not as accurate as you would like? I know I get lots even with the best the competition can offer, but knowing that there is a problem is not useful unless you can make an informed decision what to do about it. Well seeing is believing and Garmin's new Photo Live Traffic enables you to see exactly what the traffic conditions are and allowing you to decide how to avoid them.

Click here to read more...

Click here to discuss...