Gigwalk: Community Powered POI Updates and Admin
Date: Thursday, May 05 @ 15:08:12 UTC
Topic: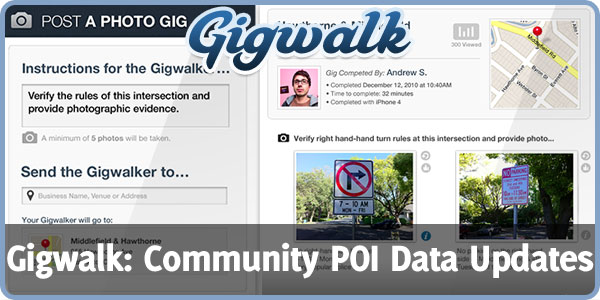 A new company has been formed called Gigwalk that allows companies to utilise local knowledge for updating information such as Restaurant opening times, turn restrictions, WiFi signal strength and, basically, anything that a company may need to know.

A company can set up 'gigs' explaining what information is required for the gig and how much the 'walker' will get paid (between $3 and $90 apparently). These gigs are then pushed out to users of the free iPhone app (currently only available in the US AppStore) and the first walker there gets the gig. The walker then has to submit photo's, videos or text information as per the company requests and, when confirmed, the walker gets paid.

Click here to read more...

Click here to discuss...