Route66 - Innovative Navigation with AR Follow Me Feature
Date: Thursday, February 17 @ 11:39:34 UTC
Topic: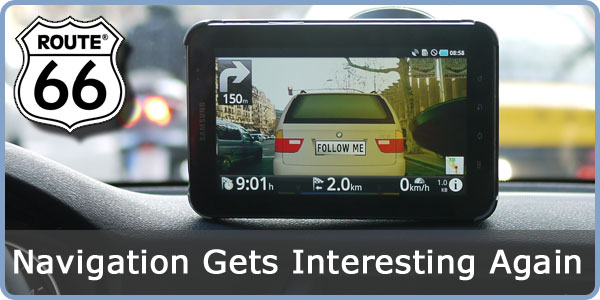 Just when we were beginning to give up hope of finding anything truly new and interesting at Mobile World Congress we hear the Route66 were showing a new navigation application.

And so we looked them up. Although not exhibiting, Route66 had a small meeting room and were demonstrating the software to manufacturers and partners. Paul Warmer, VP of Marketing gave us an in-depth demo of the software which will launch on Android soon.

Route66 have chosen TomTom map data and the software has a number of unique features.

The headline innovation for us was FollowMe. A superbly innovative Augmented Reality (AR) mode that places a target car over a real world view, acquired using the smartphones camera, coupled to a traditional information ribbon across the bottom of the screen.

You navigate by following the target car which moves further ahead as your speed increases and falls back as you slow down, in much the same way as real cars do. When a turn approaches, the virtual FollowMe vehicle even indicates and can be seen to take the turn ahead of you.

It's a simple idea that has been superbly executed. We were given a demonstration with a drive around Barcelona and it was easy to see how well it worked and how natural it felt.

Click here to read more and click here to discuss...