CamerAlert SpeedCam App in Times Top 500, No1 in App Store
Date: Sunday, February 13 @ 21:19:47 UTC
Topic: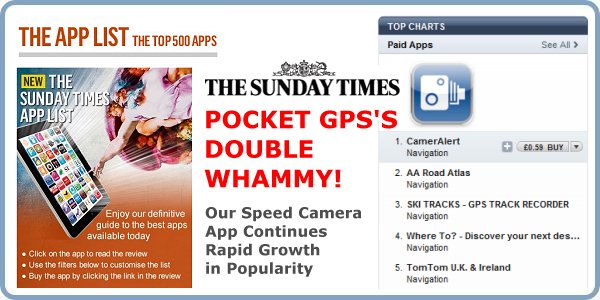 PocketGPSWorld's CamerAlert, our smartphone Speed Camera App, has been chosen by the Sunday Times as the best speed camera app and it's also Number 1 in the iPhone Navigation Paid Apps chart!

We're all delighted here at PocketGPSWorld.com that CamerAlert has not only made it into the Sunday Times Top 500 Apps List (out of over 500,000 apps), but is the only speed camera application to receive the honour!

And we're especially pleased that out of only 14 motoring tool apps named in the first 250 apps announced this week (the next 250 are being published next week), PocketGPSWorld shares the distinction with companies such as the AA, TomTom and BBC's Top Gear.

The Sunday Times App List is collated by a team of experienced app reviewers, helped by experts in the relevant specialist fields.

CamerAlert, which is available at just 59p, is also currently Number 53 out of the whole of the iPhone's Paid Apps.

A PocketGPSWorld.com subscription can be used on other GPS devices as well as the iPhone (a maximum of three devices, one of which may be an iPhone or iPad 3G).

It is also available for Android phones.

Click here to read more and discuss...