Huge Threat to Dedicated Satnavs Confirmed
Date: Wednesday, February 09 @ 21:37:27 UTC
Topic: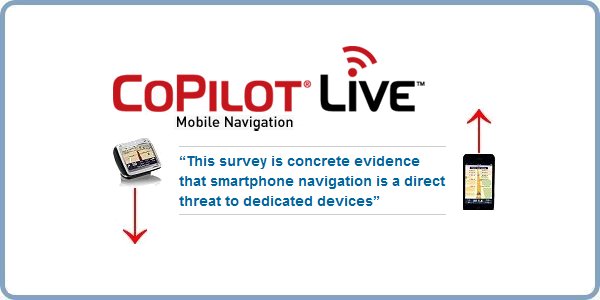 The strong challenge to the standard portable satnav device from mobile apps such as those offered by iPhone and Google Android has been anticipated ever since the first GPS enabled smartphones hit the market many years ago.

Fast forwarding to today, a survey claims that 82% of smartphone navigation app users would be unlikely to buy a dedicated satnav. It is widely anticipated that this figure will continue to grow rapidly.

Over 5,000 users of ALK's CoPilot Live navigation apps were surveyed also revealing that 65% of respondents use CoPilot Live at least once a week. This flies in the face of the belief held by some that smartphone navigation is only for occasional use or as a back-up for a dedicated satnav.

Click here to read more...

Click here to discuss...